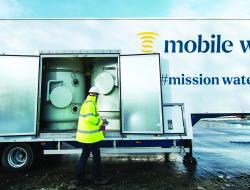 With 25 years of experience, Mobile Water Solutions (MWS), part of Nijhuis Saur Industries, is a leading provider of temporary water and wastewater treatment solutions pre-packaged on a trailer, skid, or container for maximum mobility and rapid response.
Our mission is to be the mobile water services provider of choice and exceed your expectations by offering you a cost-efficient alternative to fixed installations and ensuring continuity of water supply to your core operations, and minimising costly downtimes. We apply the latest technologies to your context to meet your requirements. Available as modular systems, our modern fleet is pre-engineered with plug-and-play connections for ease of use and an unrivalled guarantee for quality and quantity of water when most needed.
To help you achieve your objectives in various industrial situations and circumstances, MWS offers three flexible services:
Emergency where an existing plant has failed
Planned commissioning, refurbishment, or maintenance projects
Multi-Year requirements for continuous water supply
By subscribing to our services, you can benefit from MWS' network of service centres strategically located throughout Europe for rapid response in the case of any emergency call, including Germany, where we have recently opened the largest regeneration facility in Europe in Heisenberg. In just a few hours from the call, you will get immediate support, technical know-how, and rental assets to support and assist site operations for short- to long-term needs. Resulting in a 24/7, secure, and continuous supply of treated (waste)water that meets all your requirements.