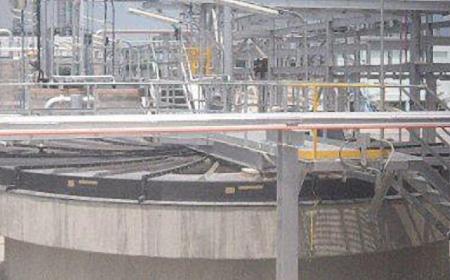 At an Kuwait National Petroleum Company (KNPC) petrochemical process plant in Kuwait, increasing amounts of oil and grease were seen to be consistently reaching the biological treatment part of the process. KNPC searched for a technology to remove the high oil and grease content from process wastewater prior to it reaching the biological treatment phase.
Solution
Flootech's Dissolved Air Flotation (also known as microflotation) technology is a well-known method of particle separation. Microbubbles are created by dissolving air into water under pressure. When the air-saturated pressurized water is released, microbubbles are formed.

Chemical, physical and electrical forces cause suspended solids and colloids to attach to one another or to air bubbles which float to the surface and are scraped off. Coagulation and / or flocculation chemicals enhance the process.
Outcome
Seen as a critical element in the treatment of wastewater at the plant, the DAF unit was installed, started-up and handed over into operation in record time. The unit has achieved its required oil removal efficiencies. Since switch-on of the new plant, it has continued to operate troublefree and within its operational parameters.
How we created value
• High performance and good capture efficiencies
• Fully automated system
• Reduced maintenance and operational costs
• Low down time
• Reduced power consumption
Prologing the efficient life of your assets
Flootech takes a business-orientated view of total operating costs in water and waste water. Each office can draw upon global best practice and in-depth application knowledge to ensure the efficient and effective running of water solutions within clients' businesses. Flootech's commitment to clients is total, with experts dedicated to the provision of high quality operational support, maintenance, refurbishment and specialty chemical supply.
Flootech team can test and confirm the operating capabilities of systems via regular inspections, either onsite or remotely. They will calibrate water treatment equipment periodically, as specific client service contracts require it.
Flootech team operates a quality system that conforms to ISO 9001 ensuring that:
• Communicating is as easy as possible.
• Local partners are used wherever possible.
• Costs are kept to a minimum.
Backed by a comprehensive telephone and remote control support service and spare part supply agreements, Flootech's commitment is to develop productive, long-term customer service relationships with every client. Its teams ensure that plant is kept in optimum condition, minimizing downtime for your business and enabling you to operate at optimal efficiency.