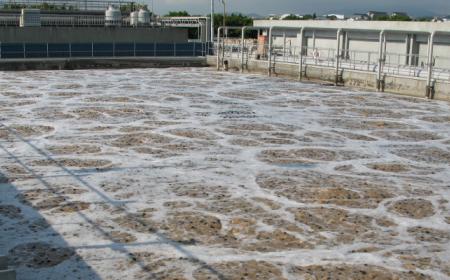 PHOENIX PULP AND PAPER, KHON KAEN MILL, THAILAND
Founded in 1975, Phoenix Pulp & Paper is a leading integrated producer of paper products with the capacity to produce 230,000 tonnes of pulp per year from locally harvested eucalyptus and bamboo; the process can generate over 13.5 million cubic meters of wastewater per year.
Brief
Previously responsible for discharging toxic effluents into riverways and surrounding land, the mill recognized that the tightening of environmental requirements necessitated innovative engineering and state of- the-art technologies to meeting the new standards.
Solution
Phoenix selected Flootech's process combination of the FlooBed MBBR and activated sludge process as its wastewater solution. This FlooBed BAS wastewater treatment process was a turnkey delivery, and included screening up to wastewater tertiary treatment and sludge handling, as well as process instrumentation and automation.
The main unit processes comprised our robust primary and secondary clarifiers, known for their enhanced efficiency in solids removal and capability to produce highly concentrated sludge suitable for dewatering without separate thickening. The FlooBed MBBR ensures low and stable loading into the activated sludge process; because of requirements for extremely high quality treated wastewater, tertiary polishing via FlooDaf Microflotation was also incorporated.
Outcome
Wastewater flow to the plant was designed to be 15,000 m3/d with inlet COD and BOD concentrations of 2200 and 1200 mg/l, respectively. Right from start-up, treated wastewater quality has been excellent, and during the first months of operation the average treated water BOD was below 10 mg/l, SS < 15 mg/l and the outlet COD was as low as >40 mg/l. Since switch-on of the new plant, it has continued to operate trouble-free and within its operational parameters.
                                    BOD                  COD
Raw water            < 1000 mg/l     < 1500mg/L
Treated water       < 10 mg/l        < 100mg/L
How we created value
• Low residual concentrations.
• Stable discharge water quality (with fluctuating inlet load).
• Excellent handling performance for toxic compounds and load variations.
• Low sludge production.
Prolonging the efficient life of your assets
Flootech takes a business-orientated view of total operating costs in water and waste water. Each office can draw upon global best practice and indepth application knowledge to ensure the efficient and effective running of water solutions within clients' businesses.
Flootech's commitment to clients is total, with experts dedicated to the provision of high quality operational support, maintenance, refurbishment and specialty chemical supply.
Flootech teams worldwide can test and confirm the operating capabilities of systems via regular inspections, either onsite or remotely. They will calibrate water treatment equipment periodically, as specific client service contracts require it.
Your local Flootech team operates a quality system that conforms to ISO 9001 ensuring that:
• Communicating is as easy as possible.
• Local resources are used wherever possible.
• Costs are kept to a minimum.
Backed by a comprehensive telephone and remote control support service and spare part supply agreements, Flootech's commitment is to develop productive, long-term customer service relationships with every client. Its teams ensure that plant is kept in optimum condition, minimizing downtime for your business and enabling you to operate at optimal efficiency.
Creating Value by Cleaning Water
We offer water treatment solutions and applications - together with our comprehensive knowledge base to:
• enable you to improve product quality and the reliability of your process;
• implement cost-efficiencies designed to enhance productivity;
• better manage environmental risk;
• provide the capabilities to enhance competiveness when facing increased demand for pulp and paper products as well as further regulatory pressures.