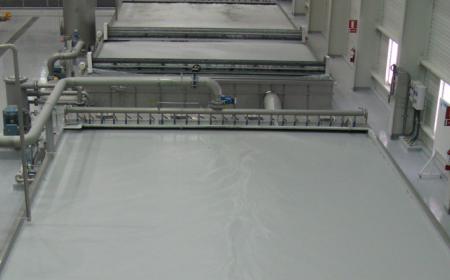 Flootech was the selected supplier for the state-of-the-art process water and wastewater treatment concept for the new SCA DIP Tissue Paper Mill in Mexico. Water consumption at this modern mill is remarkably low and Flootech's equipment is widely used in different locations of the mill to minimize the raw material and water consumption.
Raw material usage at the mill is maximized by efficient fiber recovery, which is performed by FlooDaf® Microflotation (SaveAll DAF). Improved process water recycling is enabled by cleaning the dirty process water with the FlooDaf® Microflotation and recycle the clarified water back to the DIP plant. Despite of the low water consumption concept there is some  wastewater discharge from the mill. This wastewater is treated with advanced wastewater treatment process based on the combination of MBBR (moving bed biofilm reactor) and Microflotation.
The special detail in the treatment plant design is the fact that almost half of the treated wastewater will be recycled back to the production process providing the lowest water consumption among DIP Tissue mills.