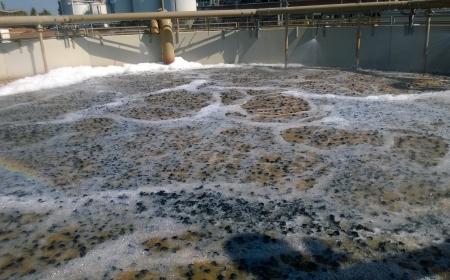 Key FlooBed® MBBR features
Patented technology
Wide range of wastewater treatment applications in different market sectors
Capable of treating high organic loadings in varying process conditions
High performance biofilm carriers
Open and robust FlooBed® carriers enable excellent mass transfer to biofilm
Long lifetime of carriers
Resistant to toxic shocks of different wastewaters
Continuous process, no backwashing needed
FlooBed® MBBR can be built to existing basins with different shapes
Efficient & Compact Biological Wastewater Treatment
Flootech has long experience in different types of water treatment methods. One of our key technologies for biological water treatment is an advanced and high-loaded biological treatment, patented FlooBed® MBBR, which been launched to the market over 20 years ago.
FlooBed® MBBR Main Features
The FlooBed® MBBR, Moving Bed Biofilm Reactor, is a biological treatment process for industrial and
municipal applications. The core of the process is an advanced biofilm carrier element combined with
optimized, energy efficient aeration and mixing, using continuous process control.

Micro-organisms form a biofilm on the surface of plastic carriers that are suspended in the reactor and
are constantly mixed through FlooBed® MBBR aeration system.

The FlooBed® process can have one or several stages which can be operated in series and parallel. An
existing conventional process can be upgraded with FlooBed® MBBR to function as a modern FlooBed®
BAS process.
FlooBed® MBBR Aeration
Biological oxygen need and mixing of the process are performed by an improved FlooBed® MBBR
bottom aeration system. The aeration system covers the entire bottom area, guaranteeing an efficient
use of the whole reactor.

There are two efficient alternatives for the aeration: Plastic Diffuser Aeration and Perforated Steel Pipe
Aeration. The aeration system is tailor made for each application.
FlooBed® MBBR aeration system is designed so that it can be installed also inside existing basins. Thus
we can easily use old and existing basis to build new MBBR. The aeration is a non-clogging and requires
only a minimum amount of maintenance work.
High prefabrication degree provides excellent quality and significantly shortens the installation time.
The FlooBed® MBBR Carrier Family
FlooBed biofilm carriers have open structure which improves mass transfer efficiency to and from the
biofilm and enables a higher amount of biomass on the carrier element.

Biofilm carriers' durable structure makes them tolerant against mechanical abrasion, resulting in low
maintenance costs. The design of the FlooBed MBBR is flexible for each application. The filling ratio of
biofilm carriers can be adjusted according to load and environmental requirements.
Large surface area over 800 m

²

/m³
Open design Low blocking tendency
Strong and durable structure > Low maintenance costs
High mass transfer efficiency
Biofilm is favorable to nitrifying organisms