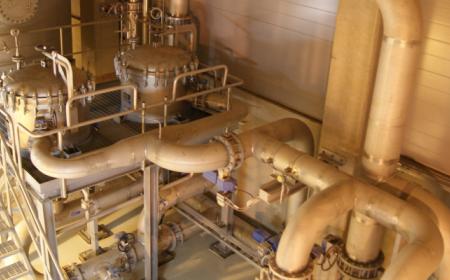 Stora Enso's biggest mill in Poland at Ostrolêka serves an integrated paper and paper packaging business. As it has invested in a new power plant, high quality boiler makeup water is essential for steam generation.
Conditioning water properly can increase boiler efficiency and extend boiler life by preventing deposits, which cause corrosion. Treating boiler feedwater also insures safe and reliable operation.
Solution
Upstream water intake from the River Narew is 350 m3 per hour. This volume is passed through continuously operating sand filters.
The primary treated water is fed to three membrane-based reverse osmosis and mixed bed ion exchanger lines each with a capacity of 62 m3 per hour. Flootech's advanced membrane based demineralization processes reduce carbon footprint by significantly decreasing chemical and transportation costs when compared with conventional ion exchanger processes.
Process condensates are polished with cartridge filters and mixed bed ion exchanger polishers.
Outcome
The treated condensate for Stora Enso's 190 m3 per hour installation at Ostrolêka meets critical water quality parameters. These specifications include measurements of silica, suspended solid and ionic constituents such as sodium and chloride.
How we created value by cleaning water
• 190 m3 river water treated onsite per hour.
• Treatment reduces condensate impurities to critical water quality parameters protecting plant.
• Flootech's demineralization processes reduce Stora Enso's carbon footprint by decreasing chemical and transportation costs.